Woodlands Conservancy is a 501-C-3, nonprofit organization created with the mission to preserve and develop an ecosystem dedicated to creating daily public opportunities for recreation, ecotourism and education in a natural and historic setting. The vision of Woodlands Conservancy is to be the regional model for the conservation of hardwood forests, and a leader in the advocacy and preservation of Louisiana's coastal forest ecosystems.

Physical address: 449 F. Edward Hebert Blvd., Belle Chasse, Louisiana
Take a Hike! Come visit the progress and enjoy a hike in one of the region's last stands of bottomland hardwoods. Free and open to the public dawn to dusk. View Map.
Alternate Directions During Construction of F. Edward Hebert Blvd: Click on map for details.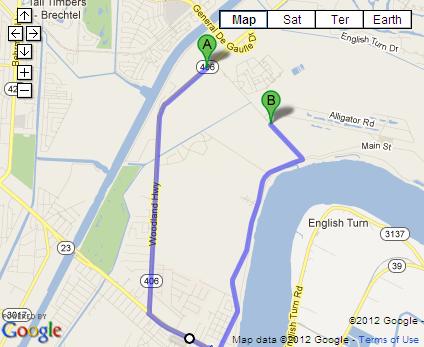 | | |
| --- | --- |
| | From downtown New Orleans, take the Crescent City Connection to the Westbank. Take the General DeGalle East, exit 9B. Merge onto General DeGaulle and travel 2.9 miles, continuing over the Intracoastal Canal. Enter traffic circle at the end of the bridge ramp and exit left to go under the bridge. Drive 3.3 miles. Turn left onto La-23/Belle Chasse Hwy. Drive .7 miles. Turn left onto Avenue G and take the 1st left onto Main Street. Drive 2.3 miles to F. Edward Hebert Blvd. The Trail entrance will be 1/2 mile down F. Edward Hebert Blvd. on your right. |
History
The Woodlands vision is the culmination of work over a ten-year period where the distinct history and attributes of the 10,000-acre peninsula formed by Orleans and Plaquemines Parishes were identified and then congealed into a proposal for educational and recreational greenways and trails. As our community grows, it will be imperative to the livelihood of wildlife to connect greenway corridors to prevent species from being trapped between islands of development. Woodlands Trail is partially funded by the Louisiana Recreational Trails program by the Lt. Governor's Department of Cultural Recreation Tourism with funds from the Federal Highway's Administration.


Contact Information:
Phone/Fax:

504.433.4000
Mailing address:
Woodlands Conservancy
P.O. Box 7028
Belle Chasse, Louisiana 70037
E-mail: info@woodlandsconservancy.org